True or False: Every woman's favorite feeling in the world is snatching her bra off after a long day of work!
TRUE
I know that this is something that we all can agree on. From the moment that I step foot into my home, you can find me flinging my bra off and tossing it in the corner somewhere lol.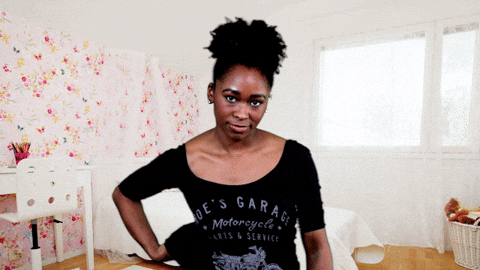 So when True & Co., reached out to me to try some products from their collection, I was eager to test it out.
...after doing my research on the company of course.
Be sure to also check out "5 Comfortable Bras To Wear During Quarantine w/ True & Co."
What I love most about True & Co. is their approach to inclusivity. You can find women of all shapes, colors, and sizes on their website and social media. When I saw that they make products and put a focus on women who look like me, I was all in.
True or False: I don't trust online bra sizing
TRUE
As a former bra specialist, I know that it takes more than inputting a few numbers to find your perfect fit. You have to consider breast tissue density, skin elasticity, age, and several other factors. Having this knowledge made me a little skeptical when testing out True & Co.'s fit quiz.
To my discovery, I found this tool to be more of a style guide versus a fit quiz. The quiz asks questions about your breast shape, the size and comfort of your personal best fitting bras, and style preferences such as padding levels and favorite colors to wear. Once complete, you'll recieve an email with their three top picks for you based on your results.
So before purchasing a True & Co. bra, I would suggest that you visit an actual intimate apparel store or department store and get a true bra fitting, or grab a tape measure and check out their True Guide, How To Measure Bra Size & Bra Size Chart.
True or False: I hate boring bras!
False
#PlainJane over here lol. Over the last few years I've been trying to expand my bra collection and step into more colors and bralettes. Unfortunately, that's just not my cup of tea lol. I have a few colorful bras, but nothing too wild and extreme.
As I searched True & Co. for my matching set, I decided to try something different and step away from blacks and nudes. It was a toss up between the True Lingerie Gramercy Balconette Bra in deep sapphire or ceylon yellow. Both, I felt, would look great on my melanated skin.
I decided on ceylon yellow and paired it with their True Lingerie Gramercy Hipster. True & Co. offers a variety of colors ranging from black, brown, grey,and nudes to pink, yellow, blue, and some other fun colors in between. So whatever mood you're in, I'm sure they'll have a color to match it!
True or False: True & Co. True Body V Neck Bra is the most comfortable wireless bra that I have ever worn.
TRUE
Have you ever worn a bra and actually forgot that you had one on?
Well that happened to me the first time wearing the True Body Life V Neck Racerback Bra.
Mindblown.🤯
Honestly, I'm not a fan of wireless bras. They leave my breasts looking saggy, smushed, and oftentimes I'm left with gaping at the top of my cup. Normally I only wear them for lounging around the house or when running errands. Nothing fancy, pretty basic, and unfortunately not that supportive. I hate the "sports bra" feel like I get when wearing wireless bras. Although I'm not looking for vavavoom cleavage when wearing them, I still would like to feel supported and lifted.
Luckily, True & Co.'s Body Collection does just that! Offering scoop neck and v neck options, convertible and adjustable strap options, along with shapewear options, this collection will have you feeling naked, but better!
Don't believe me? Try them out for yourself. Head on over to True & Co. and use the code TRUEIG15 to recieve 15% off of your purchase.
Trust me, you won't be disappointed.