"We out here looking for revennnngggeeeee, all summer sixteen, all summer sixteen, playing dirty not clean"....Well, actually, my body is paying me back! "My body's found its revennnngggeeeee, all summer sixteen, you know what I mean, I was eating dirty not clean" and now I'm sitting here looking like……
Ladies!!! Help me!!! Lol what happened to the goal digger woman that I am? I have seemed to accomplish almost every goal that I made over these last 5 years EXCEPT losing weight!! I remember starting off saying "Oh I just want to tone up" then it became "Oh I want to lose 10lbs and tone up" theeennnn it became "Oh no I need to lose 15 lbs" then I lost 8lbs, moved back home, maintained my weight, then once I got engaged it was "OH NO I NEED TO LOSE 20 LBS…..I don't want to be a fat bride walking down the aisle". Tina the talking tummy has been yelling and laughing at me since last summer. I'm ready to tell her "Guuuurrrlll byeeeeee"
So as we….you know Tina and I sit here trying to figure out life and our get snatched plan, I figured I would write to you ladies in hopes that it would inspire myself (and anyone else who needs a little push)….kinda like an accountability thing. Gotta practice what you preach! So here is my list of random Jedi mind tricks that will get me in shape….and a ton of other random "skinty" thoughts.
Step 1: EXCUSES→ Get over them
Now I'm very famous for saying "I dont have time" or "I dont have the energy to go to the gym". Tash….cut it out! If you're like me and have a "legitimate reason" for not going to the gym, taking a jog around the neighborhood, or doing some crunches in your basement...just STOP! That gut won't go away sitting on the couch.
Step 2: Soul Food→ Let it go
And I'm not talking about the movie. My guilty pleasure is a fried catfish platter from Georgia Peach with a side of candied yams and mac and cheese. (If you're ever in Baltimore you MUST stop by and grab their catfish…..talk about finger lickin, lip smacking, hush child I'm eating type of catfish). It's soooo good, but I know my stomach can't always have what the heart wants. So although I won't let go completely, I've held myself to a promise to only eat a fried meal once throughout the week #moderation
Step 3: Clappers Radio → Workout Music
Yes, Clappers radio is a real thing, I know because I have the playlist on my Pandora station lol. But seriously, who wants to workout while listening to jazz.....nobody! Create a playlist that will get your energy up. Find something that will make you keep up with the beat and will motivate you while running on that treadmill. My treadmill top picks are anything Nicki Minaj, Beyonce and Rihanna.
Step 4: Twerk Miley Miley Miley Twerk→ All day all day
No, I am not a fan of the "Miley Cirus twerking act" but if you've ever taken the time out to read the "About Me" section, you would know that I love twerking in the mirror. Not only is it fun, but it can burn some calories, all while strengthening your quads, hamstrings, and most importantly those glutes! Sometimes having fun in different forms of movement makes the thought of exercising seem less painful. Grab some of your girlfriends and head to a Zumba class, yoga class, kangajump class and even a twerk class. Burn those calories girls!
Step 5: Fitspiration → #bawdygoals
Find someone who's body you admire and make that your goal. But make sure its something realistic, not saying you can't reach for the stars but we know half of these Instagram models have had work done. Again, not saying having work done is a bad thing, but I wouldn't want you in the gym doing squats thinking you're going to look like K. Michelle...and we all know her "Betty" isn't real. My personal fitspiration is @MakeUpShayla. Im literally obsessed with her, from her beat face to her bomb body, and its all home-grown! If you follow her on snapchat she always posts her daily workouts.
Step 6 : Challenge Yourself → Mind Over Matter
Most times you find your inner strength when being tested…..so test yourself! Recently my fiance and I decided to stop eating pork forever…. "cold turkey" style #nopunintended. Surprisingly it hasn't been as hard as we expected it to be (He used to put bacon on EVERYTHING!) However, this month I have also decided to give up red meat. I've been tested and tempted by steaks, hamburgers and sausages, but thus far I have passed with flying colors. I think doing these "challenges" really helps you realize that having a healthy lifestyle is a mental thing. So try it out! Challenge yourself to a week without wine, no eating after 7pm, meatless days, etc. If you don't know where to begin, search on Pinterest .
Step 7: Sacrifice → You get, what you give
This brings us back to my first point, stop making excuses. If you want to lose weight, or be fit and in shape, you have to make sacrifices. Cut back on happy hour every week with your friends, wake up early and workout, and watch how you spend your money. Is the majority of your money going towards fast food? Would you save more money by meal prepping? Small sacrifices will help you reach your goals. For example, instead of buying a new pair of 6 inch heels, invest in a nice pair of sneakers, or instead of getting that sexy lingerie, invest in a good supportive sports bra or even instead of going to day parties and brunch every Sunday, use that money for a gym membership. Step by step, day by day.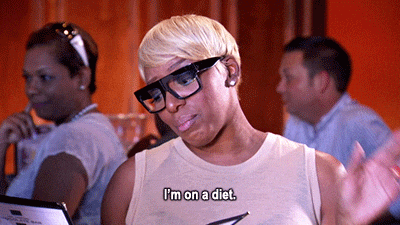 So Regal Ladies, if you're like me and are trying to get snnnnaaaaaatched this summer, leave your favorite workout tips, exercise regime, fitness apps, healthy recipes, fitspiration, etc. Let's all aim for healthier lifestyles together.
TheRegalLady xoxo